Philippe Starck, creator of international renown and protean inventiveness, has always focused on the essential, his vision: that creation, whatever form it takes, makes life better for as many people as possible. As such, he is one of the pioneers and one of the central figures of the concept of "democratic design".
By deploying his prolific work in all fields, products of our daily life (citrus squeezer, furniture, electric bicycle or individual wind turbine), architecture (hotels, restaurants aspiring to be stimulating places), naval and space engineering (mega yachts, capsule housing for private space tourism), he has never stopped pushing the limits and criteria of design, becoming one of the most visionary and recognised creators on the contemporary international scene.
Making design accessible to everyone: this is Philippe Starck's vision. He tries to democratise this concept by making it affordable, through its prices and its distribution channels. Starck even believes that it is a duty that every designer should advocate. To do this, he makes many everyday objects without going into luxury and opulence. His creations therefore have the advantage of being able to fit into any interior, unlike some large creations which are too extravagant.
He wishes above all that his works will make life better for his users. But also to the planet. In this sense, his ethical vision allows him to create objects whose goal is to be "good" before being beautiful.
Also, always for the sake of sustainability and eco-design, it is useful to note that Starck always makes sure to give a long life expectancy to his creations, by focusing on quality. He refers to it as "democratic ecology". As a result, the objects he designs guarantee a legacy, a transmission for future generations.
Among the many battles he leads, we find that of defending "the intelligence of the useful and the usefulness of intelligence".
Explorer, inventor, creator, architect, designer and artistic director, Philippe Starck is all of these but above all he is an honest man in the pure line of Renaissance artists.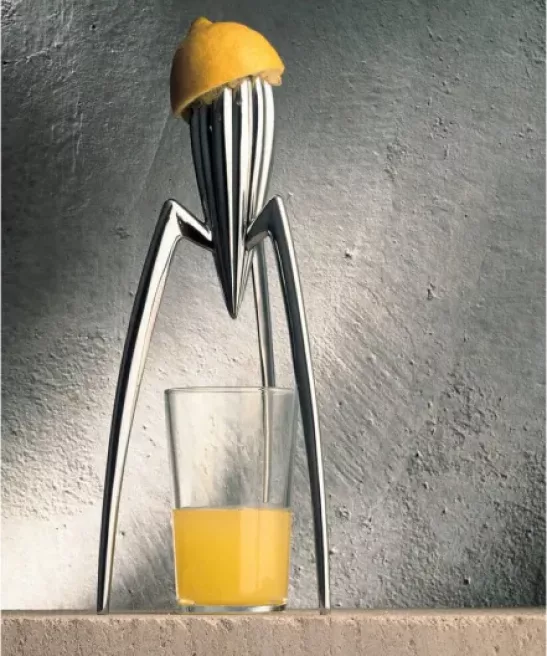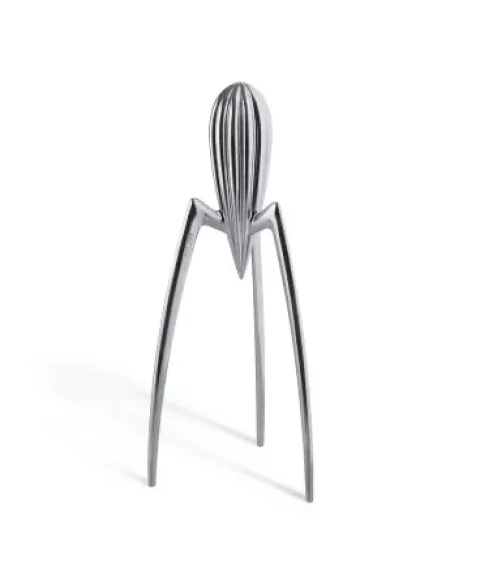 Since its first years of creation, Philippe Starck's design has never been intended for the elite but for the whole of society. He voluntarily aspires to a democratic design, for which the creator gives an enlightening definition: "to improve quality while striving to make it accessible to as many people as possible, with fair prices".
In his mind, modern and sincere elegance stems from the multiplication of the object, in opposition to the ideology of the limited series where the premeditation of rarity leads to a selection based on money.
This approach, which aims to give the best to as many people as possible, has been deployed by Philippe Starck in all areas of life: from tableware to issues related to body and hygiene, advanced technology and the environment.
Driven by the same love of products and their benefits for the body, Philippe Starck is also interested in the culinary world: from the legendary biomorphic lemon squeezer Juicy Salif (Alessi, 1988), born of a reversed mathematical exercise in topology, with the desire to improve the functionality of this essential utensil but above all the desire to stimulate exchanges and conversations, to his renewed approach to tableware with Miam Miam (Driade, 2000).
Subversive, ethical, visionary, political, humorous, poetic: this is the idea I have of my duty as a creator.
KARTELL BY STARCK : THE ELEGANCE OF INTELLIGENCE
A unique scenography designed by Philippe Starck through Kartell for the 35th anniversary of RBC in Nîmes.
For 35 years, the RBC Nîmes showroom has illustrated the history of design in its space by offering the most beautiful pieces imagined by the greatest designers. This anniversary is an opportunity to highlight the creations of the man who designed this historic space, Philippe Starck.
Thanks to a singular scenography, produced in partnership with Kartell, the staging explores the creative and conceptual process of a selection of Starck creations produced by Kartell.
These pieces, among the most iconic and innovative items imagined by Philippe Starck, highlight the symbiotic collaboration necessary between a designer and an industrial company, between creativity and technology, harmony and innovation.
This testimony to contemporary design, from the Dr Glob bi-material injected chairs to the Goodnight mobile lamps, including the AI collection resulting from artificial intelligence and the Smart Wood collection in harmony with nature, illustrates the visionary work carried out by Starck and Kartell on the engineering of materials and tools for creation and production. Permanent avant-garde research that constantly tests the limits of contemporary design and offers solutions to the major challenges of our civilisation.