Aalto's architecture is typically Finnish, strongly individual and imbued with a warm humanity. His buildings derive their aesthetic character from a dynamic relationship with their natural surroundings, their human scale, superbly executed details, unique treatment of materials and ingenious use of lighting.
Aalto began designing furniture as a natural extension of his architectural thinking. His first modern piece of furniture was created in 1931-32 for the tuberculosis sanatorium in Paimio, Finland. The Artek company was established in 1935 to market and sell his furniture, lighting and textiles, as well as those of his wife Aino, especially in international markets.
Thanks to his innovations in shapes and lines, the name of Alvar Aalto also became important in the history of design. In fact, Aalto first rose to prominence in continental Europe as a furniture designer, and only later as an architect. His contribution to furniture design is one of his greatest achievements in itself. Furniture and lighting from Aalto form the heart of the Artek series.
Among the icons drawn by this "Mage of the North", we note:
The Screen 100 – 1936
Composed of thin strips of pinewood aligned vertically, the Screen 100 can be rolled up for storage and unrolled to form straight lines or flowing curves. The screen can be used to divide rooms or separate areas, and at 150 cm in height it will add structure to a space without obscuring vision. Lightweight, with balanced proportions, the screen is easy to move around as needed, and will bring the warmth of wood to any room it is placed in. The Screen 100 testifies to the unparalleled ability of the Finnish master in combining traditional materials and organic forms.
Armchair 42 – 1932
Armchair 42 – or "Little Paimio" – was designed by Alvar Aalto for the Paimio Sanatorium in 1932. The frame is made of laminated birch, shaped to produce a cantilever chair; the seat and back are created from a single piece of moulded plywood. The fluidity of the design creates a soft and comfortable place to sit. The result is an armchair without straight lines, with exceptional aesthetics. As wood weathers over time, the armrests are formed from a single piece which is then split in half, ensuring that the chair remains perfectly balanced as it ages.
The A808 floor lamp – 1955/1956
The hand-turned shade of this elegant floor lamp is made up of delicate strips of lacquered metal that prevent glare by evenly diffusing the light. The bands form concentric circles of increasing size which combine to form an inverted bowl shape. The slender, angular neck features a polished brass collar that contrasts nicely with the black leather finish of the bracket, hand-stitched in Finland. The lamp was designed by Alvar Aalto in 1955 for the National Pension Institute in Helsinki.
Alvar Aalto designed many pieces of furniture reflecting the simplified forms and functional approach of Modernism. His materials of choice included plywood and birch, which in his eyes offered more comfort than the tubular metal preferred at the time by his fellow designers. By bending plywood, as with the No. 31 Armchair, he produced furniture that was both modern and sensually seductive.
Aalto drew much of his inspiration from the Finnish landscape: he deeply loved the abundant wood and its many forests.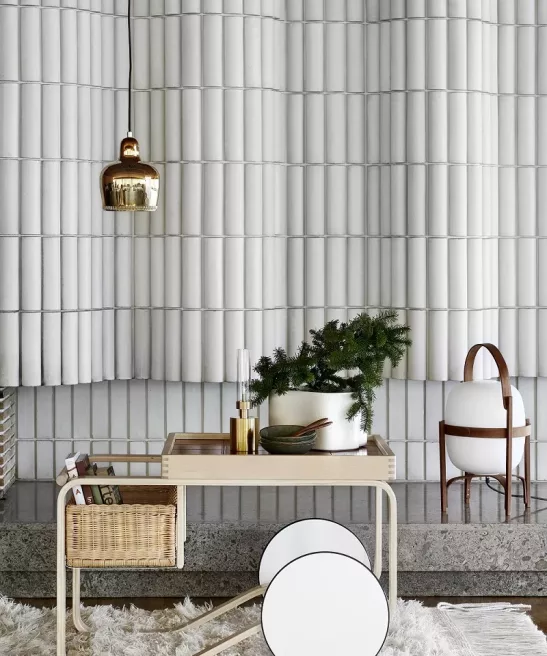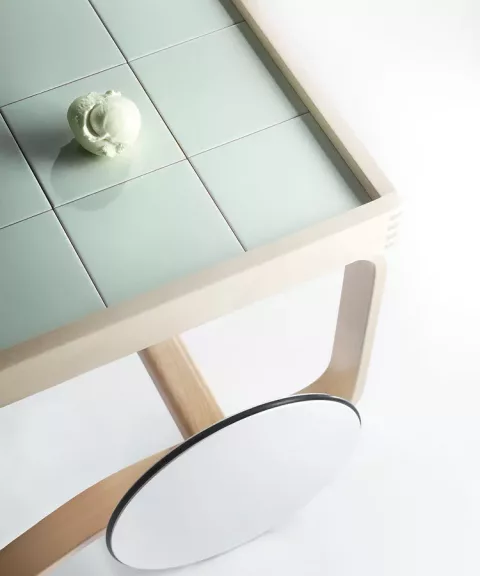 Zooming in on the rolling table – Tea trolley 1900 – 1937
This teacart, or sideboard, was inspired by British tea culture, which Aino and Alvar Aalto had come to know on their many travels, as well as the Japanese woodwork and architecture they admired. The stunning Tea Trolley 900, which features ceramic tiles and a rattan basket, was first launched internationally at the 1937 Paris World's Fair, a traditional functionalist piece of furniture embellished with purified multicultural references. Versatile and full of character, the Tea Trolley 900 is the perfect centrepiece for enjoying breakfast, tea or cocktails.
Shown opposite is a special version of the Tea Trolley 900 with mint green ceramic tiles.
The name Artek comes from the synthesis of the words "art" and "technology", two fundamental concepts of the international modernist movement of the 1920s. The founders of the brand, Aino and Alvar Aalto, Maire Gullichsen and Nils-Gustav Hahl wanted to marry these two notions and are committed to ensuring that Artek remains an avant-garde brand at the crossroads of design, architecture and art.
Artek produces the greatest classics of the 20th century, such as Chair 65 or Suspension A330. Functionality and timeless aesthetics are the main features of each product. The majority of the creations were designed by Alvar Aalto, and are available in RBC furniture stores.
The art of construction is a synthesis of life in a materialised form.
Le tabouret 60 - 1960
Alvar Aalto's iconic Tabouret 60 is the most basic piece of furniture, serving as a seat, table, storage unit or display surface. The legs are mounted directly on the underside of the round seat, without the need for complicated connecting elements. Thanks to its geometry, the stool can be stacked to save space as a sculpture in the form of a spiral tower.
Manufactured in 42 production stages at Factory-A in Turku, Finland, the Tabouret 60 is available in a wide variety of colours and finishes. Several million copies of Tabouret 60 and its four-legged cousin, Tabouret E60, have been sold, making it one of the most popular products in design history.
A follower convinced of the humanising vocation of design, Alvar Aalto refused not only rigid geometric shapes but also metal tubes and other artificial materials, which he considered too far removed from nature. His work was particularly well received in Britain and the United States as early as the 1930s and 1940s. His ideas as the "founding father of organic design" greatly influenced post-war designers such as Charles Eames and Ray Eames.